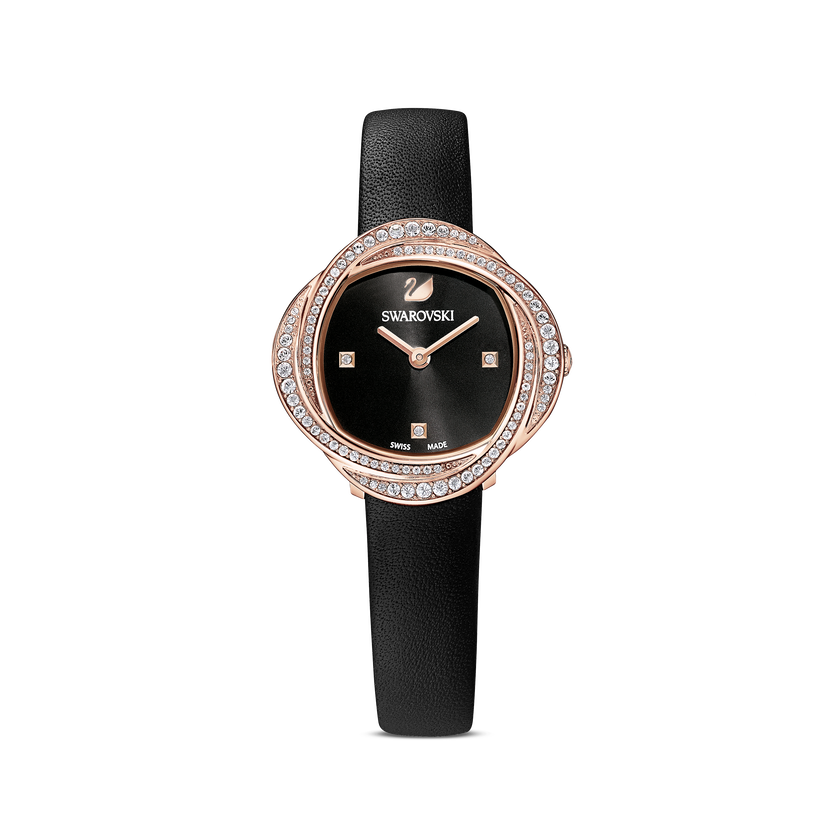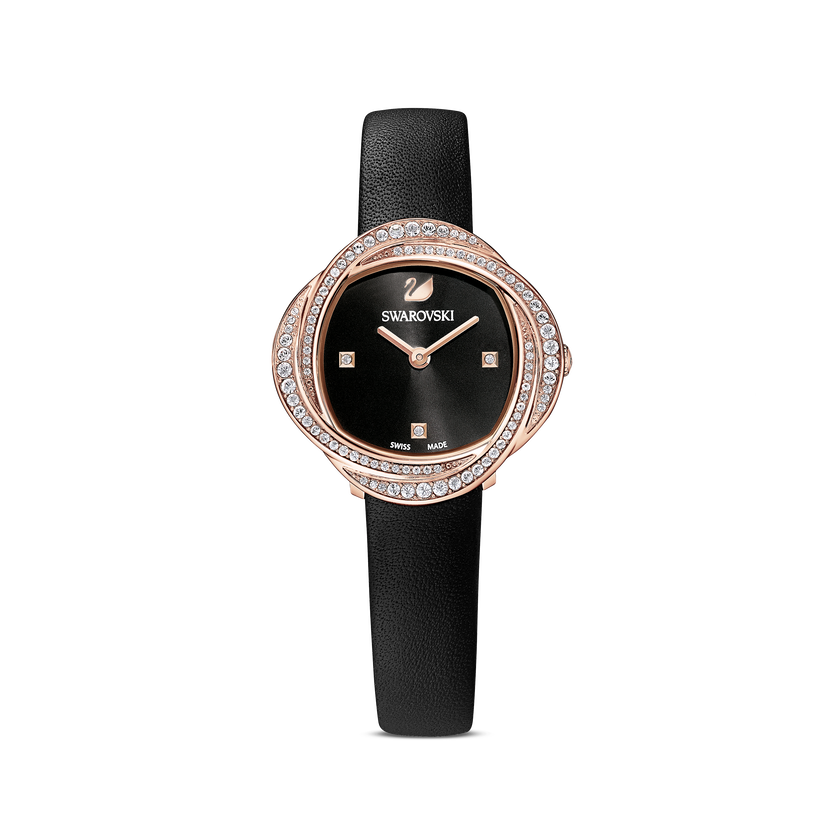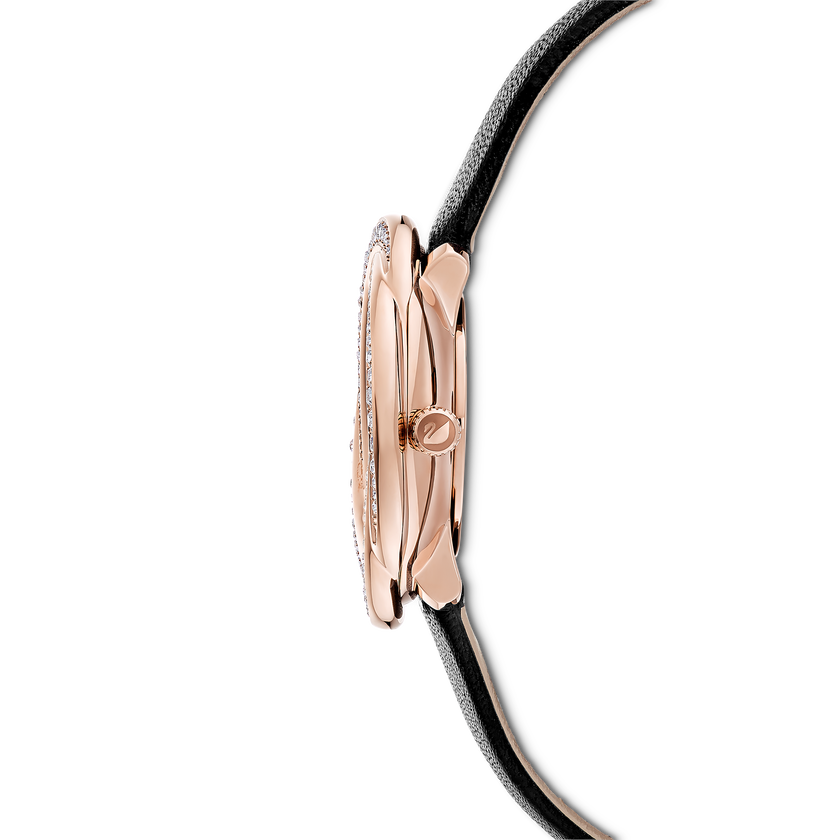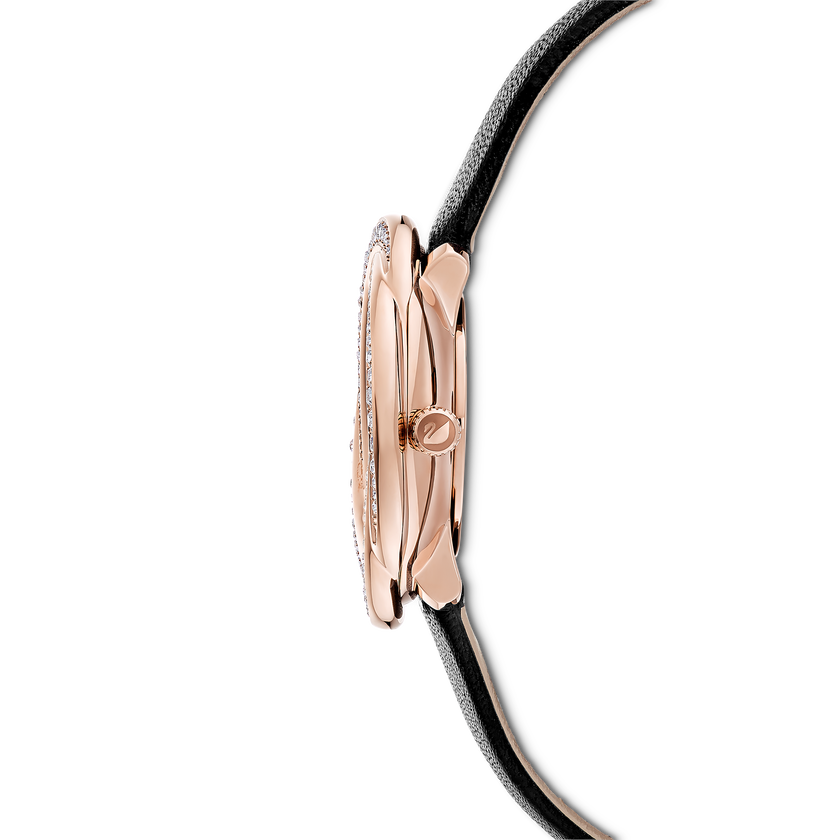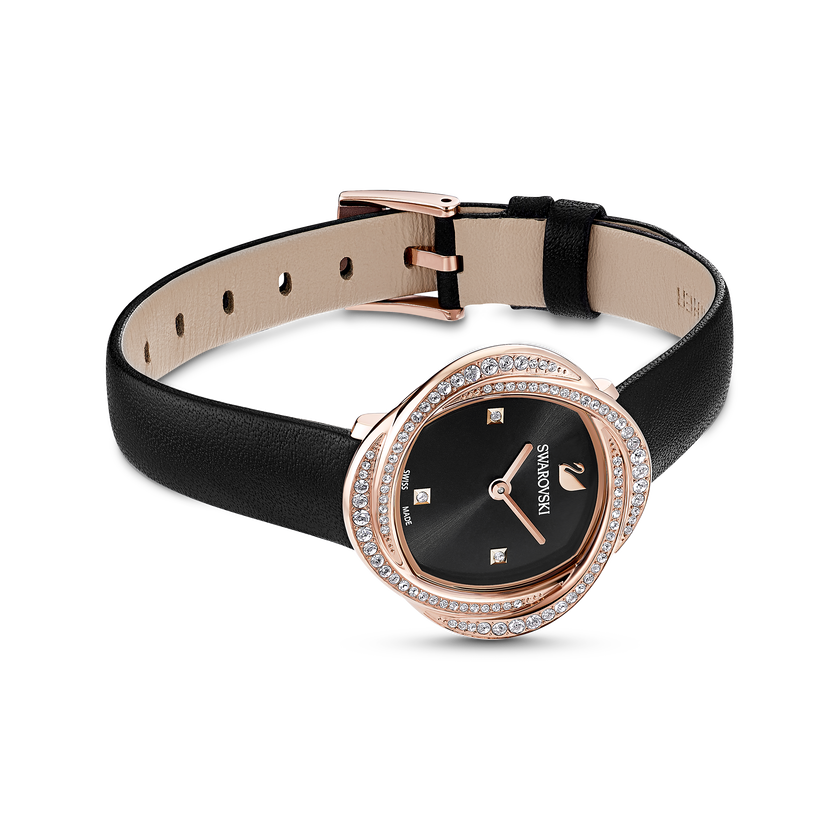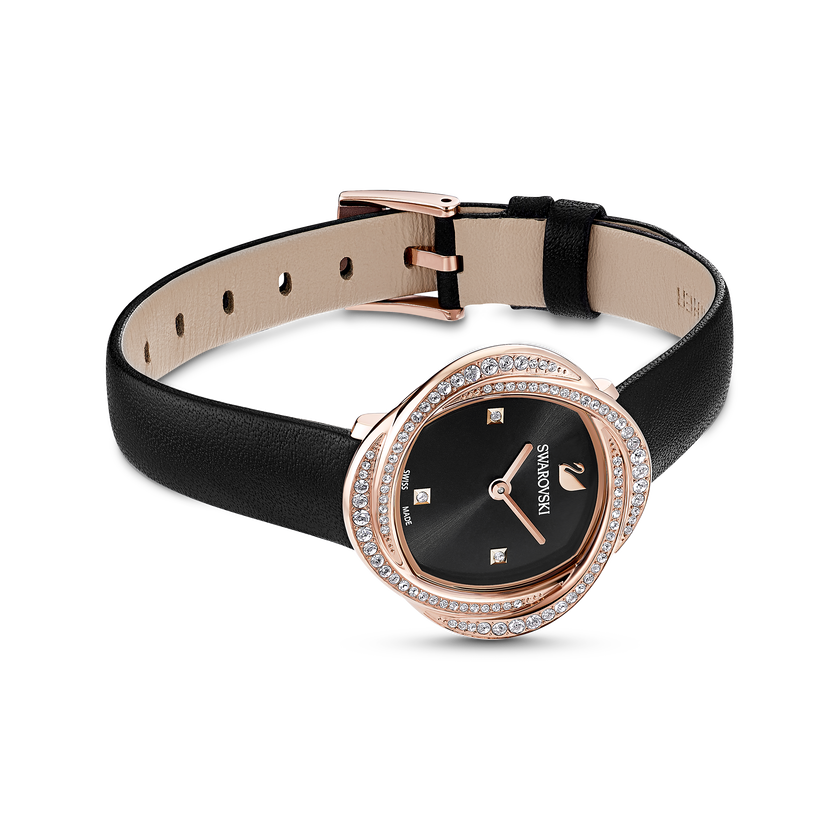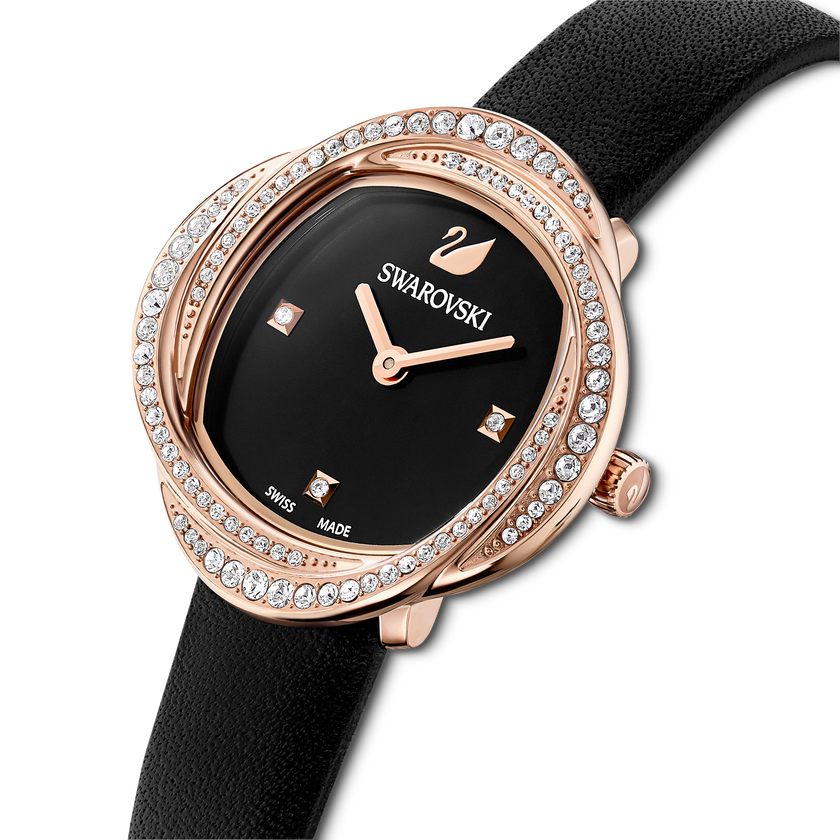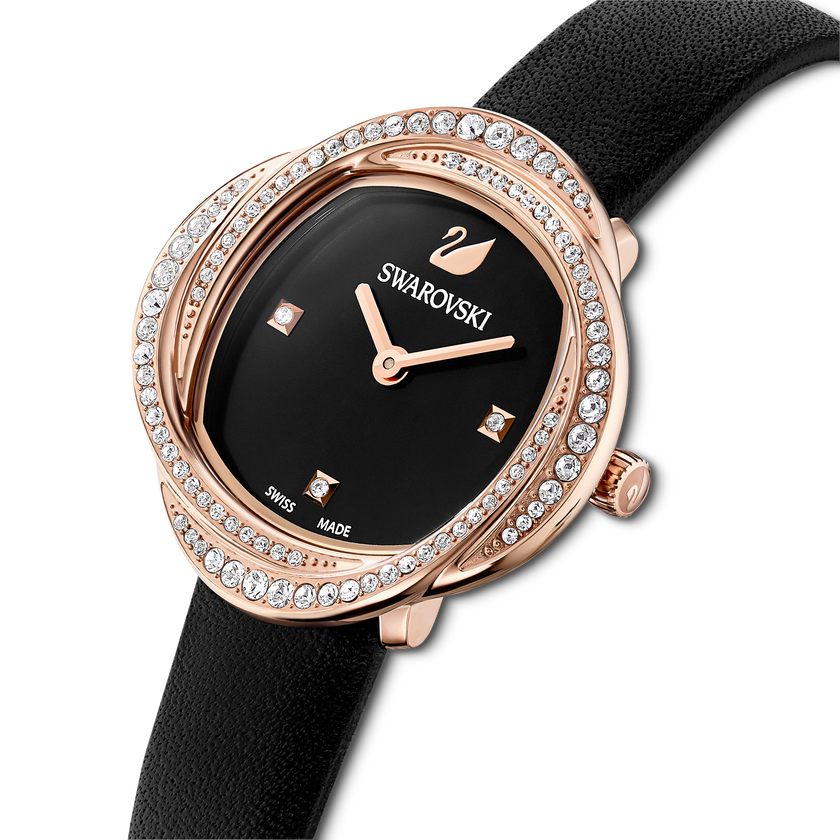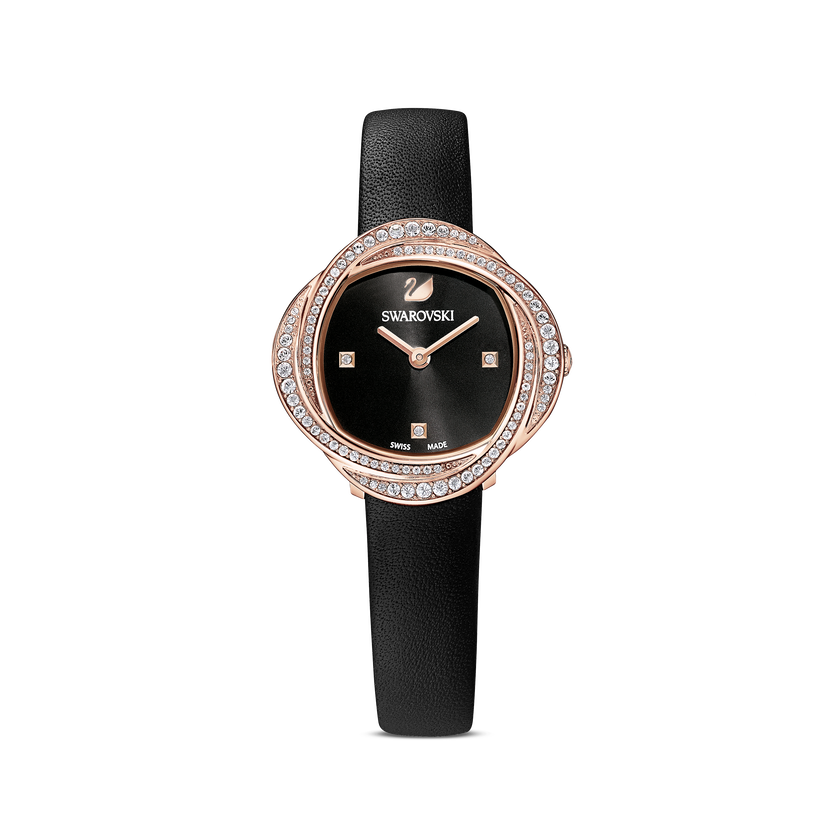 5552421
Crystal Flower Watch, Leather strap, Black, Rose-gold tone PVD
3 Days Returns
Free same day delivery
2 Years Warranty
Description & Details
This Swarovski watch displays a brilliant integration of natural forms and modern design. Inspired by flowers, the bezel features two intertwined rows of bright crystals on rose-gold tone PVD coating. Nestled among these sparkling lines sits a black sunray dial adorned with crystal index markers and the Swarovski logo at 12 o'clock. A black, genuine leather strap adds the finishing touch to this Swiss Made watch. Dress up your style with this floral timepiece to add extraordinary romance to your every day.
Comes in a Swarovski branded box
Certificate of Authenticity included with 2 Years Warranty
Article No: 5552421
Collection: Leather strap
Colour: White
Case size: 30 mm, Watch strap length: 19 cm
Material: Rose-gold tone plated
Family: Crystal Flowers
Unfortunately this product is not currently available in our online store.
We'll send you an e-mail when it's available.
3 Days Returns
Free same day delivery
2 Years Warranty
Orders placed from Sunday to Thursday 16:00 will be processed within 1 working day. Orders placed on weekends and public holidays will be processed within 2 working days. No deliveries are made on public holidays.

Standard delivery time: 2-4 working days
Express delivery time: Same day for orders placed before 1pm (Available in Riyadh, Jeddah, Al Khobar, Dhahran, Taif, Buraydah, Tabuk and Yanbu)

Swarovski is unable to deliver to PO boxes or APO/FPO addresses.

You may return ordered items up to 3 days after their receipt, terms and conditions apply (with the exception of Gift Cards and customised products).
Swarovski crystal is a delicate material that must be handled with special care. To ensure that your Swarovski product remains in the best possible condition over an extended period of time, please observe the advice below to avoid damage:

Jewellery & Watches:
Store your jewellery individually in the original packaging or a soft pouch to avoid damage.
Polish your jewellery frequently with a lint free cloth to maintain its original sparkling condition.
Our recommendation is, to always place the jewellery on last, as a finishing touch to an outfit.
And don't forget to remove your Swarovski jewellery before washing your hands, swimming or using products such as perfume, hairspray, soap, or lotion. Such products may harm the metal, cause discoloration or cause a loss of crystal brilliance.
Avoid contact that may scratch or chip the crystal.

Crystal Creations & Home:
Polish your product carefully with a soft, lint free cloth or clean it by hand with lukewarm water. Do not soak your crystal products in water. Dry with a soft, lint free cloth to maximise brilliance. Avoid contact with harsh, abrasive materials and glass/window cleaners.
When handling your crystal, it is advisable to wear cotton gloves to avoid leaving fingerprints.
Make your gift extra special at no extra cost by selecting your preferred options in your shopping bag.

Add an elegant greeting card with a personalised message inside (limited to one greeting card per order).

For the ultimate finishing touch, add a premium Swarovski gift bag. Delivery to your address: You will receive one gift bag for each item ordered. The gift bag(s) will be enclosed separately, so you can wrap the gift(s) yourself.
Delivery to a different address: All the items will be beautifully presented in a single gift bag. The package will include a delivery note, which also serves as a warranty, but no invoice.
An Expense of Imagination
Experience the wonders of crystal